Welcome to Cleared for Travel, a blog we started to share little-known tips, reviews, and sale alerts to help you travel well for less. We're kicking off the blog with this inaugural post sharing how we booked our trip to New York on an American Airlines 3-cabin first class flight, and how we booked a Deluxe Suite at the St Regis New York - all for about 95% less than the best-available public price. This trip would have cost us over $10,000 if we'd booked the best available rates on AA's and Marriott's websites, but we paid only $300 per person. Below, we'll walk through the deals we stitched together to score this amazing trip.
Airlines
Booking this trip required using airline miles and hotel points. Our favorite airline for flying from California to New York is American, since they offer a fantastic internationally-configured lie-flat first class cabin. When traveling from New York & LA, they also offer an exclusive Flagship First restaurant in their LAX & JFK terminals, only available to those flying in international & transcon first class.
In order to get on the AA flight we wanted, we participated in this amazing Iberia airlines promotion, where we earned 90,000 Iberia avios for booking 10 ultra-cheap domestic flights in Spain on Iberia, for a total cost of about $300. While we didn't have a trip in mind when booking these flights, we recognized that the Iberia promotion was an incredible deal--that's because we were able to buy super cheap flights for about $30 a piece, while getting 10K (about $100) worth of points for each flight we booked.
Hotels
I'm also a long-time Starwood/Marriott member, so already had some Marriott points. Additionally, I was able to buffer my point balance by upgrading my SPG card to the SPG luxury card, which awarded me 100K Marriott points in their promotional offer for existing SPG cardmembers. Altogether I was able to use 120K Marriott points for this trip (normally about a $600 value).
Smart Burning
Airlines
Iberia availability was very spotty during this promotion, so we opted to explore Iberia transfer partners. Because Iberia has a distance-based awards chart, we found that we were able to redeem our 90K miles for a round trip AA first class flight from LAX-JFK, which falls just at the top of one of Iberia's distance tiers. Using American miles for First class in this same flight would have cost 260,000 miles. Iberia also doesn't distinguish by type of flight; you'd pay the same miles for a standard 737 first class as this internationally configured lie-flat cabin. The lie-flat first class seat goes for $4,000 per person whereas we paid only 300 for the points we needed. So, using Iberia Avios for this flight was an incredible value.
We scored an amazing value for a flight that normally goes for $4,000 per person for the lowest nonrefundable fare - paying only $300 per person by buying Iberia avios.
Because we started in LAX, we were able to try out American's Flagship First dining experience - one of the most exclusive lounges in the world, available only to passengers flying AA long-haul three-class international first class (not business) from LAX & JFK. The LAX experience is located within the AA Flagship First lounge. At the gate, the receptionists gave us the following invitation...
The Flagship First dining experience itself was hardly occupied... In all we visited 3 times (twice on departure, once on arrival), and in each case only 1-2 tables were occupied. (In one case by a celebrity...)
Before sitting for dinner we ordered drinks. Each of us ordered a glass of Krug champagne, which normally goes for $200 per bottle. Over the course of the trip, we ordered about 3 free bottles of Krug between the two of us. Even just this champagne was worth the cost of the points we used to fund this flight.
We sat down for dinner and ordered a few courses each. I particularly liked the crispy calamari starter.
We both really enjoyed the burger, which AA touts as world-class. It was a great meal, but was also totally overboard before having a whole second dinner on the flight just a couple of hours later.
On the flight, I pre-ordered a filet. It was exceptional!
Hotels
SPG and Marriott recently went through a merger of their awards charts. Because Marriott did not have an ultra-luxury hotel category at the time of merger, through the rest of 2018, ultra-luxury "category 8" SPG properties can be booked at the category 7 rate. That means we were able to book the St Regis New York for only 60,000 points (the equivalent of 20,000 SPG points), while the same room will cost 100,000 points starting in 2019 during high season. This represents a 40% savings.
Due to my Marriott Platinum status I was upgraded to a Deluxe Suite, which is 800 square feet, has a fireplace, and has two bathrooms. The room was highly traditional but it was fun to feel like we were stepping into a piece of New York history. (The hotel is over 100 years old.) Normally this suite costs $1,850 per night.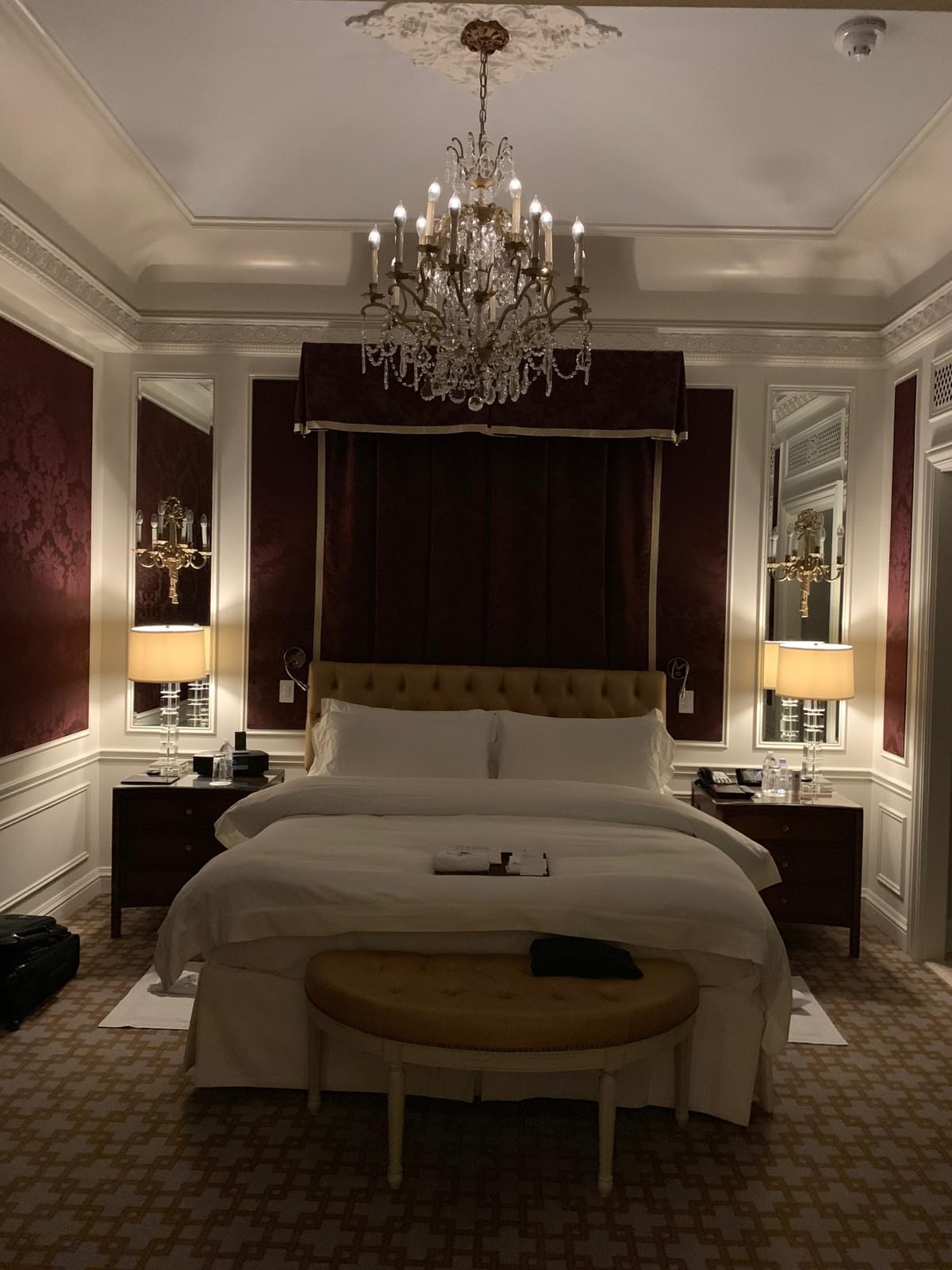 We enjoyed a free dessert at the St Regis, free drinks at the hotel's famous King Cole bar, and free laundry service - all of these were worth about $300 but were included as part of the $50 daily destination fee. We also were able to score a delicious full breakfast for two with my Marriott platinum status (worth $90/day, cost: $0).
We also enjoyed the free St Regis Bentley service, which took us on a shopping trip to midtown and a free trip to the MoMa (ticket value $50). It was quite a fancy car - check out the license plate.
All in all, the trip was a fantastic value. It cost us only $300 out of pocket for flights & hotel rooms that would have cost us about $12,000 if we'd paid the best available cash rates.
If there's one takeaway to underscore from this trip, it is that good deals multiply together into great deals when you both earn points & miles intelligently and also to spend them intelligently as well.
Want to spot great deals like this in the future? My favorite resource is FlyerTalk.com > Forums > Premium Fare deals.